Complete System includes:
Vacuum Generator, Vacuum Adapter, Vacuum Hose, Inner and Outer O-Ring, Chuck, Spindle Washer. Components also available seperately.
Unit is sold to fit 1x8. Available in 1-1/4x8 and 33mmx3.5. Call us for ordering information.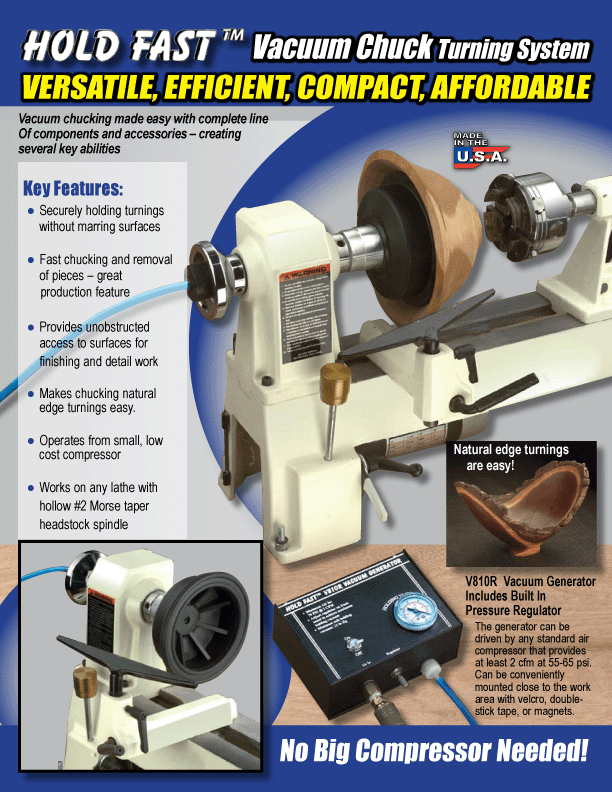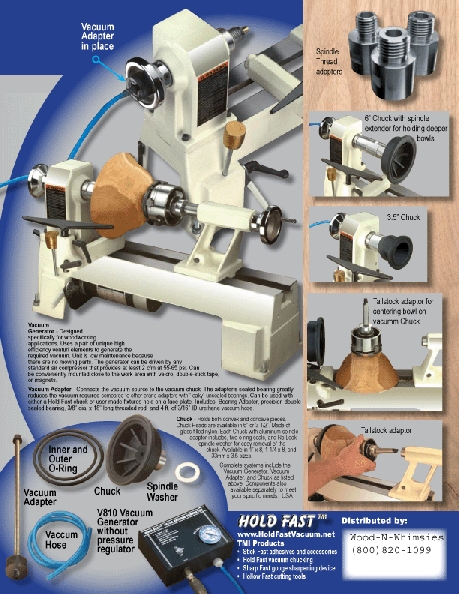 Vacuum Generator - Designed specifically for woodworking applications. Uses a pair of unique high efficiency venture elements to generate the required vacuum. Unit is low maintenance because there are no moving parts. The generator can be driven by any standard air compressor that provides at least 2 cfm at 55-65psi.
Vacuum Adapter - Connects the vacuum source to the vacuum chuck. The adapter's sealed bearing greatly reduces the vacuum required compared to other brand adapters with "leaky" unsealed bearings. Can be used with either a Hold Fast chuck or user made fixtures held on a face plate . Includes: Bearing Adapter, precision double sealed bearing, 3/8"x18" long threaded rod, and 4ft of 3/16" urethane vacuum hose.
Chuck - Holds both convex and concave pieces. Check Heads are available in 6" or 3-1/2". Made of glass filled nylon. Each Chuck with aluminum spindle adapter includes: 2 o-ring seals, and a No-Lock spindle washer for easy removal of the chuck.