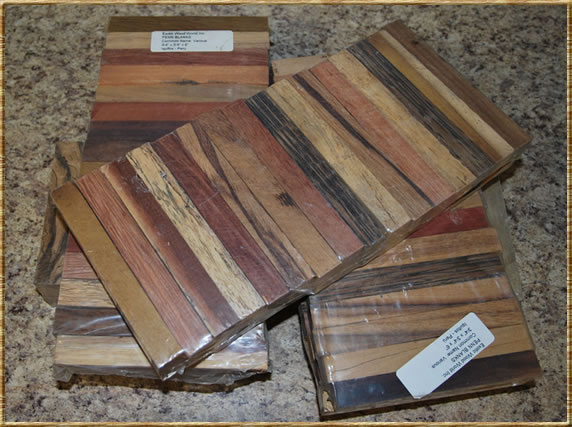 Species include but are not limited to the following exotic woods:
Ari Pari
Congolo Alves
Black Palm
Yellowheart
Tigre Caspi
Honduras Mahogany Brazilian Mahogany
Jatoba
Purpleheart
Dalmata (Dalmation)
Bloodwood
Granadillo
Morado
Black tahuari
Queenwood
Tigrillo
Mari Mari
Orange Agate
Black Pashaca
Palo Cruz
Pink Flame
Black Tahuari
Jobillo
Chakte Viga
Chontaquiro
All sets contain more than one of any of the above listed specific species but they are all a very nice mix. If sold by the individual piece the value of these packs of wood can retail for as much as $45 to $50 depending on the mix.
The sets are already pre-packaged. We will not break open packs and pick/choose blanks. The sets are as is for a very more than reasonable price.