MOVING ALERT!! PLEASE READ!!
Inlays – the last day we'll be processing INLAY oorders is Tuesday May 10th
You can still order but they will not begin to ship until May 31st
I'll go right up until we have to pack equipment so if I can get more done I will, but no guarantees after May 10th
(I will try to get up sooner we're anticipating the 31st)
All other orders: The last day we will be processing NON-INLAY orders will be Monday May 9th.
You can still order on-line 24/7 but the orders won't ship until the 31st.
We'll start first in, first out.
We thank you all so very much for your support and patience during the next few crazy weeks!!
All prayers appreciated that it goes smooth this time around!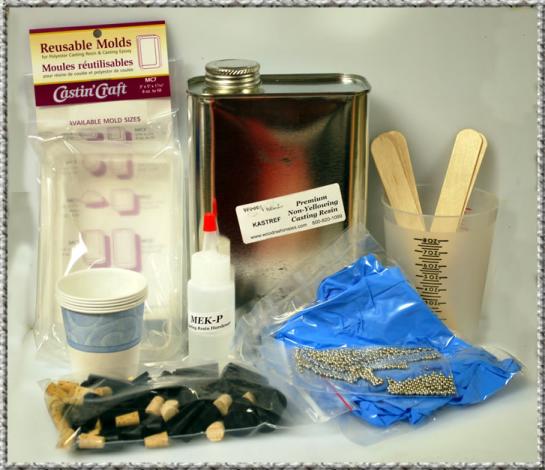 Kast-A-Blank™</font size>
Ultra premium casting kit which contains all the accessories
you need to create your own beautiful polyester resin pen blanks.
There is 32 ounces of casting solution, enough to make 10 to 15
of your own creative personalized blanks.
This resin is guaranteed to be crystal clear, non-yellowing and completely UV safe.
The hardened blanks will turn easily on your lathe with standard turning tools.
Click here for MSDS sheet For Resin
Click Here for MEK-P MSDS Sheet </font size></font color>
CLICK HERE FOR FREE ON-LINE CASTING RESIN IDEA LIBRARY</FONT COLOR></FONT SIZE>
Click here for Resin Instructions</font size></font color></font color>